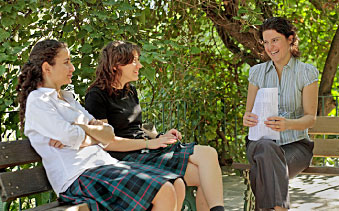 Each year the American Board schools seek experienced and qualified teachers to join their faculties. Due to the nature of the schools, foreign teaching positions are available in limited subject areas. Currently foreign teachers may be hired to teach English, Mathematics, Science, Art, Music and Physical Education in the secondary school, grades 9–12. All other subjects are taught by Turkish nationals.  
To be considered for employment at the American Board schools, a teacher must posses:
A BA / BS degree from a 4-year accredited college/university in the subject area to be taught,
A current teaching certificate/license in that subject area with appropriate grade level endorsement,
Previous successful classroom experience. The school also looks at past experience in international or intercultural working environments, professional collegiality skills, and educational experience outside of the classroom such as: sponsoring clubs, coaching, service-learning experience, etc.
A personal interview is also required and can be arranged in advance with the school Directors for any of the following recruitment fairs (Candidates must be registered fair participants.)