The FABSIT scholarships below have for many years helped these highly motivated students fill in the gaps in their tuition finances and complete their studies.
The FABSIT Alan Bartholomew Scholarship
Established as a tribute to FABSIT's past president and his vision of academic excellence and service to others, this scholarship is need-based, offering deserving students aid to help further their educations. The scholarship was created from donations made to FABSIT in Dr. Bartholomew's memory, and is presented to its recipient annually until graduation, pending the student's continued good academic standing. This scholarship began at the Gaziantep School of Nursing in celebration of their 150th anniversary in the fall of 1997, rotating then to the three schools, Tarsus American College, Tarsus; Üsküdar American Academy, İstanbul; and American Collegiate Institute, İzmir. (The nursing school has since closed.)
The FABSIT John and Gwen Scott Full Tuition Scholarship
This scholarship was established in April 2008 with seed money from a donation by Mr. Feramarz Attar (Talas '59) to honor the Scotts' 37 years in Turkey. It was expanded with a bequest from Mrs. Scott's estate upon her death in 2009, and donations in her memory, to enable a full tuition award. This award also rotates among the three schools.
Pictured is this award's first recipient, TAC student Elif Sevval Koc. Click here to read Elif's autobiography.
The Spring Glen Church Alan Bartholomew Scholarship
Established by the Benevolence Committee of Dr. Bartholomew's church in Hamden, CT, this scholarship is awarded on an annual review basis by the Benevolence Committee to a student at Tarsus American College where Dr. Bartholomew and several other members of the church congregation have taught. Recipients are students of high academic standing with demonstrable financial need.
Pictured is TAC student Utku Gokberk Sen, current Spring Glen Church TAC Alan Bartholomew Scholarship recipient.
The FABSIT Nejat B. Ezal and Anne Woodard Ezal Scholarship
Endowed in April 2008 by Mr. Bülent Ezal in memory of his son Nejat B. Ezal and his wife, Ann Woodard Ezal, this scholarship will be awarded to worthy students of need at Uskudar American Academy where Mrs. Ezal taught English from 1958 to 1960.
The FABSIT Fay Linder Book Scholarship (Buy a Book)
FABSIT Advisory Committee member Fay Linder, who taught for 21 years at ÜAA, from 1971 to 1992, authored The History of Üsküdar American Academy, 1876–1996. The book was published in June 2000 with the financial support of the ÜAA Alumni Association. Proceeds from U.S. sales of the book are collected in a fund to assist ÜAA students who attend college in the U.S. with ancillary expenses such as text book purchases.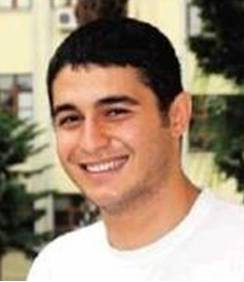 TAC's First "Brick" Scholar in the Ivy League
From selling lettuce and parsley in Adıyaman to studying bioengineering at Brown University, Velat Kılıç (TAC '12) has begun to realize his dream to help people like his father, a victim of stroke. Velat is the first of the four current Brick scholarship recipients to graduate. The "Bir Tugla da Sen Koy" scholarship campaign was established four years ago by TAC's alumni association to help talented students of need finance their TAC education. FABSIT has helped this effort by enabling over $200,000 in tax-deductible donations from U.S. alumni.